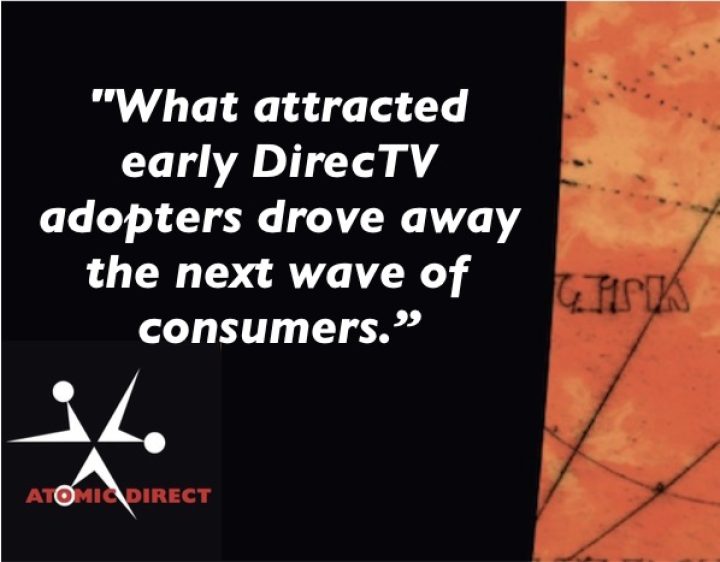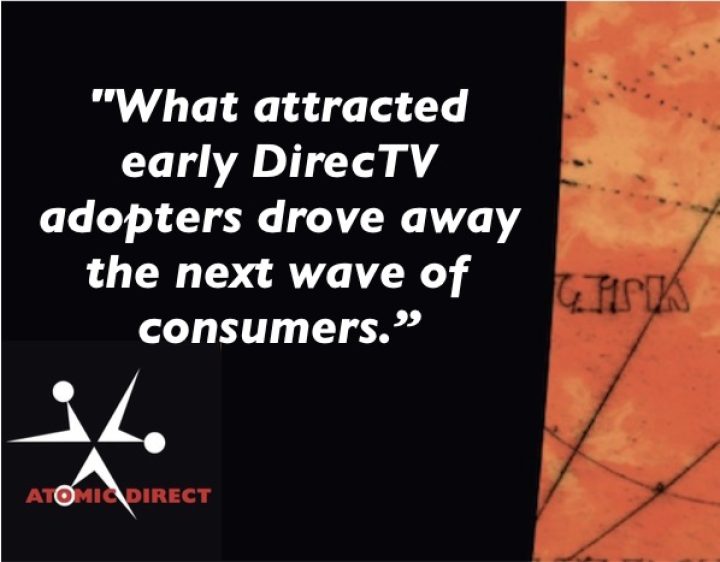 When it comes to innovative products, DirecTV is a fascinating case study.  In the mid 1990s, I was part of an ad agency that worked with DirecTV as they brought their product to market. IoT innovators need to pay careful attention to DirecTV's trajectory.
DirecTV pulled out the "this is how its done" tech marketing playbook when they were founded. That meant initial communication was classic "early adopter" tech marketing – all about digital picture and lots of channels. It reflected an engineers view of innovation – not a consumer view.
In fact, their first Time Magazine story featured a customer who built DirecTV into a 20 foot wall of electronics. Consumer values? None. It was a wasted national media opportunity.
Quite soon their use of an early adopter approach became a problem. What they thought attracted early adopters drove away the next wave of consumers. Why? It made the product look like a tech "gimmick" and those innovations simply weren't important to the mass market. (The majority of mass market consumers fear new tech that is throw-away gadgetry. It's a serious problem that too many tech companies ignore when they adopt an "early adopter" strategy.)
When my company entered the picture, we took DirecTV to consumers in research and heard they didn't find value in the product. (It isn't innovative unless the consumer cares that it is.) This seriously challenged DirecTV's team.
And DirecTV's success can be attributed to the fact that they rose to meet this challenge. The marketing team sobered up and learned from our work, among other influences, that they had to discover a different innovation magic than engineering gee-whiz.
And they did. They discovered programming. Gadgetry isn't a good enough reason for consumers to buy. But unique programming is incredibly compelling.
So DirecTV created their sports "Ticket" packages – high demand programming unavailable anywhere else. And they turned to long form TV (:60, :120, and 28:30) to get the message out about their programming and product. It worked brilliantly – and they grew fast.
If you are entering the consumer IoT market, pay close attention. An early adopter tech pitch might woo investors but it won't make you successful with consumers.
Your success is only possible by creating products with highly meaningful consumer value AND by communicating that value to consumers in ways that break past their skepticism about gadgets.
And don't reject TV. Despite marketer hype, TV remains your most effective route to driving success of innovative products in the mass consumer market. Why? It drives market action that is far larger and far more cost effective than any of the options.
So embrace the consumer and your innovative products. Package and advertise them well. And enjoy  the ride. There's nothing more fun.
Copyright 2016 – Doug Garnett – All Rights Reserved
Categories: Big Data and Technology, Digital/On-line, Innovation, Media, TV & Video